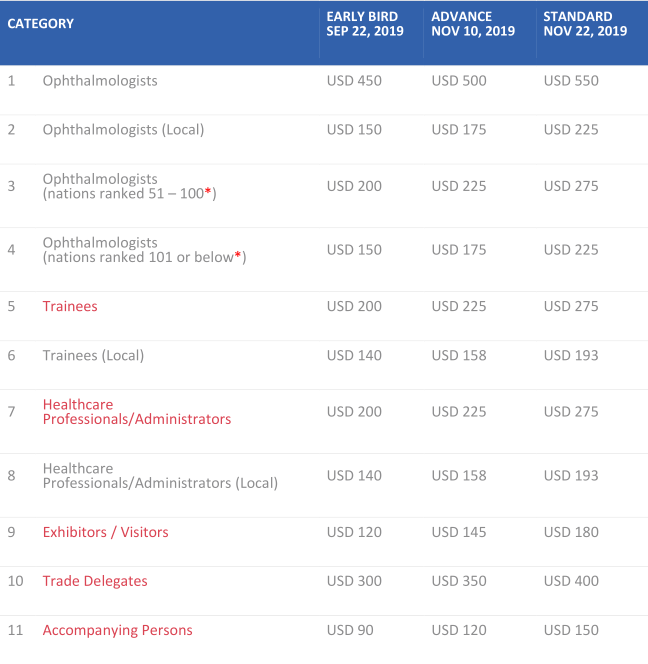 Please note that registration for the 13th APVRS Congress is facilitated by the APAO ID. You will have to register for an APAO ID and authorize the 13th APVRS Congress to access your profile and contact information in order to complete your registration. This way, you will not have to input your personal particulars every year when you register for the APVRS Annual Congress (or the APAO Annual Congress). Please note that signing up for an APAO ID is a prerequisite for registration.
If you participated in previous APVRS Congress(es) and provided us with an accurate email address, an APAO ID has already been created for you. You only need to input the email address you used to register for our previous congresses and retrieve your password by clicking "Forgot Password." You will be able to review your attendance record at the APVRS Annual Congress since APVRS 2012 with the APAO ID.
* Country ranking based on information provided by the International Monetary Fund (2017).
# Online registration will close on November 14, 2019 (Hong Kong time, GMT+8). If you miss the online registration deadline, please register onsite at NECC Shanghai.
Group Registration
For more registration of more than 5 delegates, please complete and return the group registration form to the APVRS secretariat at registration@apvrs.org. The deadline of group registration is November 10, 2019.
Cancellation Policy
To cancel your registration, a written request stating your full name and registered email address must be sent to the 13th APVRS Congress Secretariat by email at registration@apvrs.org.
Cancellations received in writing to the Congress Secretariat by September 25, 2019, will be accepted and registration fees will be fully refunded. For written requests received by November 10, 2019, your registration fee will be refunded less an administrative fee of US$50 per person, per meeting. The refund, after deducting the administrative fee, will be processed after the Congress only.
No refunds will be given for cancellations made after November 10, 2019, or non-attendance at the Congress.